Save Our Illinois Land (SOIL) is a coalition of community members and landowners across the state that is concerned about the impact of pipeline infrastructure on Illinois' land, waterways and our future.
JUL28
Rise Together in Chi to Support Pipeline Resisters
WHere: 359 N. Michigan Avenue, Chicago, Illinois60611-3815
Weather Forecast: 19-25 degrees Celcius
From July 16th-31st, frontline resistance campaigns across the continent will be taking action simultaneously to stop pipelines and extreme energy projects. During these weeks of action, they are calling on people to join in solidarity by organizing actions targeting the banks funding these pipeline projects, or by joining the frontlines and taking action directly. 
In Chicago, we will be meeting up at a Citibank branch downtown on Michigan Ave. to protest their continued financing of dirty, dangerous, climate-wrecking fossil fuel infrastructure projects. 
All over the world people are experiencing record-breaking temperatures this summer. We are experiencing the effects of climate change now and it will only get worse if big banks keep funding these projects. 
Pipelines threaten land and clean water, including Lake Michigan which is literally surrounded by a network of pipelines. 
As our earth heats up, we rise up! Come out, take a stand, and show your support for folks on the frontlines taking bold direct action this summer to stop the construction of new oil and gas pipelines. 
For more information about the #RiseTogether Weeks of Action, check out:
NoBayouBridge.global/RiseTogether
SIGN THE LINE THREE 3 PLEDGE OF RESISTANCE !!!!
In June 2018,  the Minnesota Public Utilities Commission granted a Certificate of Need and Route Permit to Enbridge for the Line 3 tar sands crude oil pipeline.
I've been at the PUC since 4:30 this morning. There's a palpable sense of anger here at the five commissioners who have decided to put an international fossil fuel corporation's profits above the lives and livelihoods of Minnesotans. The PUC approved Enbridge's wish list — including the company's' preferred route, with one modification that requires the Fond du Lac Band to choose between a pipeline on reservation land or on ceded treaty territory.
Here's what you should know:
The fight's not over, but it's shifting venues.
 The next step in the established process is legal appeals. Today's decision was not supported by the official "criteria for need," and multiple parties likely will appeal it. The fight also shifts to on-the-ground movement-building and resistance. That includes you: 
Please sign the Pledge to Resist Line 3 right now.
Line 3 still has regulatory ground to plow before bringing in bulldozers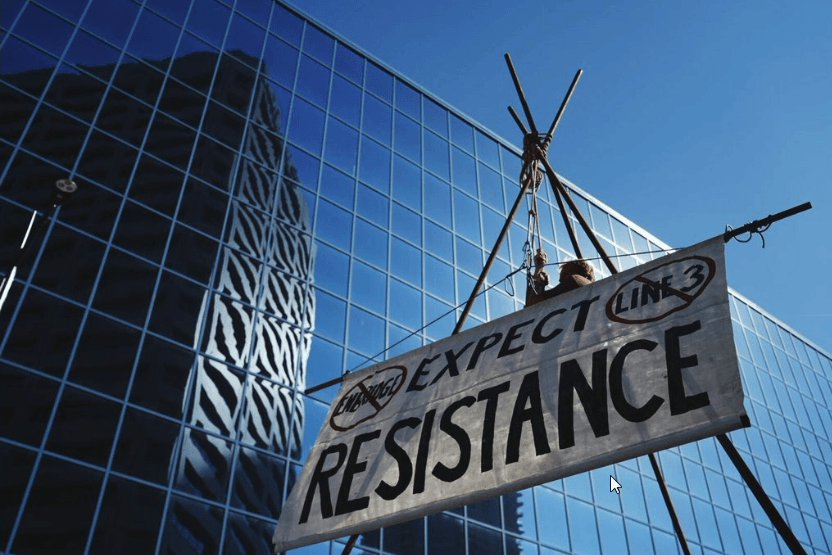 Indigenous protest camp aims to stop Enbridge pipeline at Canada-U.S. border
About a dozen people at Spirit of the Buffalo camp set up early Wednesday near Gretna, Man.
Protesters near Gretna, Man., are camping near the point where the Enbridge Line 3 pipeline crosses the border. (Patrick Foucault/Radio-Canada)
An Indigenous prayer camp has been set up near the Canada-U.S. border along the Enbridge Line 3 oil pipeline in an effort to stop construction of its replacement.
There were five people at the Spirit of Buffalo camp near Gretna, Man., 100 kilometers south of Winnipeg, shortly after noon Wednesday.
Geraldine McManus, a Dakota two-spirit person at the camp, says they can see the crews working on the pipeline on the U.S. side of the border, where the pipeline replacement received approval on June 28.
"We're standing about 10, 15 feet away from them, so we're putting ourselves right on the line," McManus said. "We're not letting them cross into Canada."
The Enbridge Line 3 replacement has received approvals in Canada and construction has begun in Alberta and Saskatchewan. Construction in Manitoba is anticipated to start in August and facilities construction in the right-of-way has already started, an Enbridge spokesperson said.
Enbridge is replacing its Line 3 pipeline from Hardisty, Alta., to Superior, Wis. (The Canadian Press)
Enbridge officials say the pipeline, which was built in the 1960s, is deteriorating and needs to be replaced. Current capacity is 390,000 barrels per day, but the new 36-inch pipeline will restore it to its former capacity of 760,000 barrels per day, the company says.
The original 34-inch pipeline will be deactivated and left in place, which Enbridge says causes less damage than removing it.
Company officials are aware of the protest camp, an emailed statement says.
This week CLDC is providing legal support to some of the most active frontline climate defense camps in the country as part of our nationwide tour to empower and embolden activists with legal knowledge.  I am also meeting with lawyers to recruit and assist them in continuing to provide support to these vital campaigns.
For the past, several days I have been at the Bayou Bridge camp, also known as L'eau est La Vie (Water is Life in French) deep in western Louisiana.  These AMAZING activists are fighting in staunch resistance against the Bayou Bridge Pipeline as it continues to force its way through private land, poor communities, as well as this amazing system of bayous and wetlands.  In fact, as I write this from my tent at camp, I can hear the machines behind me tearing up the earth and bulldozing this incredibly rare and critical habitat as birds and other animals flee into the camp in terror.
The activists here endure many hardships while living, scouting and conducting actions in a swamp, the most significant to me at the moment is the mighty mosquito. With so much still water, humidity, and hardly a breeze to be found, the buzzing of the mosquito is almost as distracting and annoying as the sound of the bulldozers!
This tight group of diverse activists must also deal with rural surroundings, modest numbers, and threats from TigerSwan operatives who renamed themselves after being denied the right to work in Louisiana, but no doubt the command and operations appear very much the same as they harass and constantly conduct intimidating surveillance upon the nonviolent pipeline dissidents who dare to show the world what they and Energy Transfer Partners (responsible for the DAPL pipeline as well) are really doing to our land and communities.
Bold Iowa & Indigenous Iowa video presentation
June 2, 2018
In the following video, Bold Iowa, Indigenous Iowa, a local Landowner and the attorney representing the Sierra Club's lawsuit against current Eminent Domain legislation captures a presentation called "Roadshow, Ames, Iowa" which was held on June 2, 2018.
This link will provide you with direct access to the entire video.
https://www.facebook.com/ed.fallon.3701/videos/10156488953582500/
The host is Ed Fallon who has a unique handle as a "fighting urban farmer, climate warrior defending Mother Earth against corporate Terrorists."
Later in the video, Wally Taylor an attorney representing The Sierra Club's fight against Eminent Domain presents the rationale for the lawsuit "to stop the oil flowing."
At 22:54  minutes, a Landowner presents a slide, depicting a motor grader having slipped into the trench after a downpour. This action completely ignores the construction protocol demanded after wet conditions. Not shown in the slide are numerous other pieces of construction equipment tearing up the soil in total disregard to the agreement with the Landowner. Further, in the video, several Indigenous women present a powerful narrative of their cultural relationship with Mother Earth. They emotionally show the pain and the sadness that they see every day as their land is destroyed by pipelines carrying fossil fuels.
A Good Watch!! The SOIL Team
TURNING TO FRACKING…..
As we all know…Fracking is toxic, dangerous, expensive and threatens our communities and climate. Learn more  and tell decision makers no #fracking way at https://youtu.be/5TTQI03D9Vc
Stop free passes for fracked pipeline polluters, demand community protection over corporate greed! #fixFERC sc.org/fixferc
What does it look like when fracking comes to town? For folks in poor rural areas, parts of Trump Country before we had Trump Country, fracking can mean opportunity, wealth, and autonomy for some, destruction and ruin for others. Journalist Eliza Griswold tells a story that begins in the Niger Delta and brings her to the doorstep of a family farm in Southwest Pennsylvania in the midst of the energy boom. There, in the towns of Amity and Prosperity, she learns about the intimate and complex reasons why people chose to bring fracking to their town, and the crisis they face when mysterious illnesses begin to appear. Just click the link below to listen to the podcast!!
Ireland passes bill to fully divest from fossil fuel by end of 2018

While Ireland is making history, many emphasized the need for the rest of the world to follow the Irish's lead.

It's a first of its kind and Ireland will become the first country to fully divest from fossil fuel. On Thursday, the lower house of the Irish legislature passed a bill that addresses the climate crisis that the world faces.

With support from both parties, the Fossil Fuel Divestment Bill, " mandates that the €8.9 billion ($10.4 billion) Ireland Strategic Investment Fund divest all investments in coal, oil, peat, and gas "as soon as practicable" but within five years, and bars future investments in the industry," Common Dreams reported. Officials say the bill will pass easily through the upper house of parliament and could become law before the end of 2018.

"The [divestment] movement is highlighting the need to stop investing in the expansion of a global industry which must be brought into managed decline if catastrophic climate change is to be averted," Thomas Pringle, the lawmaker who introduced the bill, said in a story on the Guardian. "Ireland, by divesting, is sending a clear message that the Irish public and the international community are ready to think and act beyond narrow short term vested interests."

While Ireland is making history, many emphasized the need for the rest of the world to follow the Irish's lead.

"Governments will not meet their obligations under the Paris agreement on climate change if they continue to financially sustain the fossil fuel industry," Gerry Liston from Global Legal Action and drafter of the measure said. "Countries the world over must now urgently follow Ireland's lead and divest from fossil fuels."
Upcoming Events (Summer 2018)
Below is a summary of ILClimateActivists upcoming #climatecrisis related events.  Always check with event coordinators or official event sites for latest updates.  Please add your climate-related events to future summaries on our event form.
Monday, July 16
6:30 – 8:30 pm – Note the corrected time
Apologies for the incorrect time reported last week – ILClimateActivists Team
Cook Cleaner and Greener, Faster and More Efficiently, with Induction Cooking
Holly Whiteoak & Laren Corie
Hawthorne Hills Nature Center
28 Brookside Dr, Elgin, IL 60123
Wednesday, July 25
6:00pm – 8:00pm
How the Clean Energy Economy Can Benefit Illinois Communities
Organized by Central Illinois Healthy Community Alliance and Illinois People's Action
Tri-County Urban League, 317 S MacArthur Hwy, Peoria, IL 61605
https://www.sierraclub.org/illinois/events-calendar
Please RSVP to Ryan Hidden at Ryan.Hidden@SierraClub.org
Thursday, August 30 – Monday, September 3
Aug 30 at 4 pm to Sep 3 at 3 pm EDT
People's Institute on Climate Change
Circle Pines Center
8650 Mullen Rd, 49046 Delton, MI
https://www.facebook.com/events/172435073581801
For information, cost, and registration, contact Circle Pines Center at 269.623-5555 orinfo@circlepinescenter.org
Saturday, September 15, 2018
11:00am – 3:00pm
National Drive Electric Week Event – Highland Park
North Metra Parking Lot, Downtown Highland Park, Highland Park, IL 60035
https://driveelectricweek.org/event.php?eventid=1288
Sunday, September 16, 2018
12:00pm – 4:00pm
National Drive Electric Week Event – Evanston
Evanston Civic Center, 2100 Ridge Ave, Evanston, IL 60201
Parking lot on the west side
https://driveelectricweek.org/event.php?eventid=1272
Sunday, September 16, 2018
1:00pm – 4:00pm
National Drive Electric Week Event – Naperville
Naperville Dealer Test Track
1720 W. Jefferson Ave. Naperville, IL 60540
(Just east of Fort Hill Drive and West Jefferson Ave intersection)
https:/driveelectricweek.org/event.php?eventid=1385
Monday, October 29, 2018
8:00am – 6:00pm PDT (Note: this is local time in Eugene, Oregon)
Stand with #youthvgov at the Trial of the Century!
https://www.facebook.com/events/234290693980457
Wayne L. Morse United States Courthouse, Eugene, OR 97401, USA
Sign the Petition: Demand JPMorgan Chase Stop Funding the Climate Crisis
JPMorgan Chase continues to fund disastrous projects and companies that drive the climate crisis.
Rainforest Action Network's most recent report shows that JPMorgan Chase has increased its financing for coal mining by 21x in 2017 and increased funding to one of the dirtiest sources of energy on the planet, tar sands.
Tell JPMorgan Chase we will not stand for their destructive banking practices by signing the petition. Defund Tar Sands and Coal now!
See patterns in bank financing for extreme fossil fuels for several banks here.